28.06.21
Mum's The Word – Pre-Wedding Treatment Timeline for the Mothers of the Bride and Groom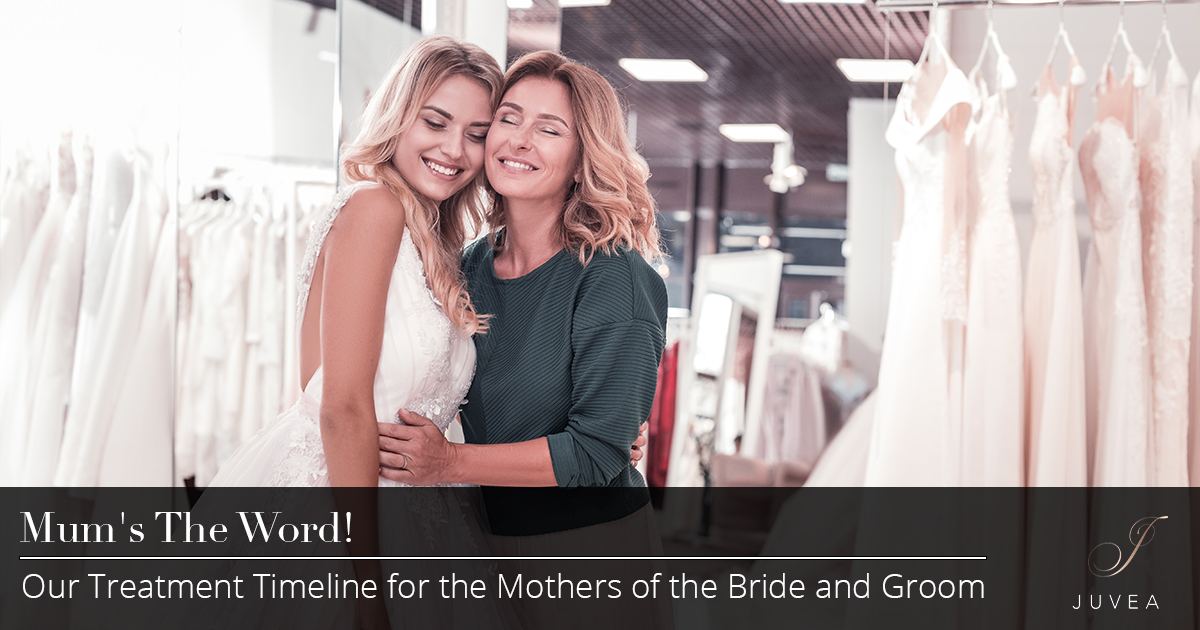 We've posted pre-wedding treatment plans for the happy couple, and next up is a schedule for two Bridal Party VIPs – the mothers of the bride and groom! Take some time for yourselves in the midst of the wedding planning, and get ready to put your best face forward with Juvea Aesthetics.
6 months Before The Big Day – CO2 Laser Skin Resurfacing
If you've not yet learned to love your wrinkles (we certainly haven't), then CO2 Laser Skin Resurfacing is the most effective way to rejuvenate your skin. This treatment has an incredible effect on deep wrinkles, skin pigmentation and scarring, and usually only needs one treatment to see full results.
The CO2 laser uses carbon dioxide to precisely remove layers of damaged skin, stimulating the growth of healthy new skin underneath. Topical numbing is applied before the treatment, ensuring that you only feel a 'pins and needles' sensation instead of pain. Full results will be seen 3-6 months after the treatment, once the skin has completely healed.
Although the recovery time from this treatment is around seven to ten days (you will need to be protected from infection risks and the sun at all times), the results from this treatment are nothing short of astounding. Have a look at some before and after pictures from Juvea Aesthetics, and get in touch to make an appointment.
3 Months Before The Big Day – SculpSure
If you're concerned that your arms or stomach won't look great in your gorgeous new Mother-Of-The-Bride or Groom dress, then Juvea Aesthetics can give you a bit of a helping hand. SculpSure is an incredible body-sculpting laser which can be used to target fat cells in the upper arms, stomach, thighs, and even the chin to give you a smoother, sleeker appearance. A treatment will destroy up to 25% of fat cells in the treatment area with results seen in 12 weeks. Best of all, as long as you maintain your weight through a healthy diet and exercise, these fat cells won't come back! Check out some real results here, and get in touch for a free consultation!
1 Month Before the Big Day – Botox and Dermal Filler
Nefertiti Lift
If you're having any worries about neck wrinkles and sagging skin, a Nefertiti lift could be an alternative to surgical intervention. During this procedure, Botox is injected to help tighten the look of the neck muscles, giving your neck a more youthful, rejuvenated appearance.
Marionettes and Nasolabial Fillers
Once the neck is treated, it's time to turn to the face. As we age, we may find that we develop deep set lines between our nose and mouth (nasolabial lines), and between our mouth and chin (marionette lines). Luckily, dermal filler can be injected into and around these lines to add volume and smooth out the look of these areas, with results lasting anywhere between 3-6 months!
1 Week Before the Big Day – Relax with a Facial
You've no doubt been run off your feet helping to make arrangements for the wedding, so you definitely deserve some 'me time'. Take the opportunity to lie back, relax and enjoy one of our red carpet facials before the big day. Our Fire and Ice Facial is a multi-step treatment which gently resurfaces the skin; reducing the appearance of fine lines, wrinkles and hyperpigmentation to leavr you with a smooth, glowing complexion. It's no wonder that the facial is a celebrity favourite; with stars including Beyonce, Jennifer Lawrence and Rosie Huntington-Whitley all swearing by it before red-carpet events.
And there you have it – our treatment timeline to take you to the aisle in style! To book your free consultation, get in touch with Juvea Aesthetics today.