09.05.21
Here Comes the Sun!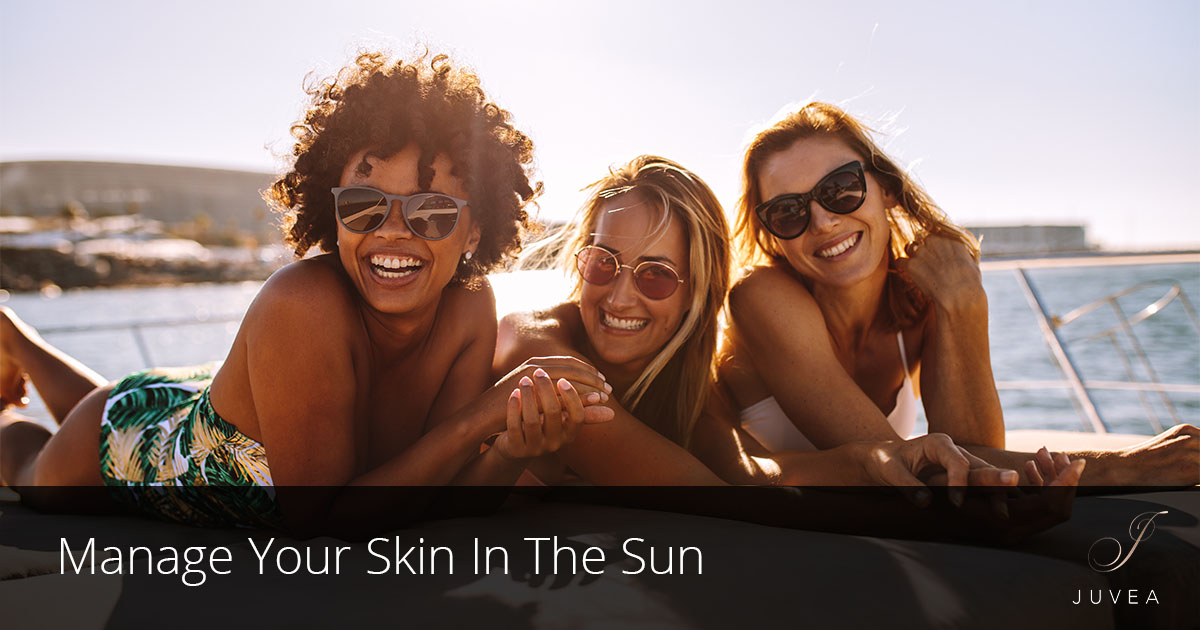 It may feel like we don't see it all that often, but even if isn't bikini weather, the sun can still cause damage to your skin. Both UVA and UVB rays are beaming across the UK (yes, even when it's raining or cloudy); causing skin aging, pigmentation, heavy wrinkles, and worst of all, skin cancer. Still, as we can't stay indoors all day, every day; at least there are steps we can take to prevent sun-related skin problems, or to reduce the aesthetic effects of skin damage.
Sun Damage Prevention
To paraphrase Baz Luhrmann, "everybody's free to wear sunscreen" – wearing it daily is the best way to prevent sun-related skin aging. That being said, we have to remember that not all sun protection is created equally. Although we might think that our foundation-with-SPF15 will be enough to protect our skin, we would be wrong. The British Association of Dermatologists suggests a sunscreen with an SPF of at least 30 to prevent sun damage, to be used and reapplied throughout the day for best effect. At Juvea Aesthetics, we recommend iSClinical's Extreme Protect SPF30, or Eclipse SPF50. Both have broad spectrum defence against UVA and UVB rays, providing your skin with protection and hydration.
Reducing the Aesthetic Effects of Skin Damage
If you're a reformed sun-worshipper with already damaged skin, then don't despair. We have a variety of treatments available to reduce the aesthetic effects of the sun; such as hyperpigmentation, rosacea, or sun-related aging.
Rosacea
Rosacea is a skin condition that affects 1 in 10 people in the UK, causing redness and broken blood vessels on the nose, cheeks and forehead. The sun can worsen the effects of rosacea, meaning that sun protection is crucial. If your skin already shows the permanent redness caused by rosacea, there are treatment options available. Juvea Aesthetics offers Dermalux LED Phototherapy, which can relieve symptoms and reduce the appearance of blood vessels. Get in touch to find out whether this treatment could be right for you.
Hyperpigmentation
Noticeable darker uneven spots caused by overexposure to the sun can be a source of frustration, but it isn't one we have to live with. Lasers treatments have come a long way, and our RevLite and Elite MPX laser treatments could be the perfect option for reducing sun-related hyperpigmentation. The beam passes through the top layer of the skin and is selectively absorbed by brown, black or blue pigment particles within the skin. The melanosomes in the pigment cells breaks into miniscule particles which are eliminated through the body's own lymphatic system.
Sun Related Aging
If the sun has left you feeling a little leathery, facial peels can help to resurface your skin to leave you with a smoother, more youthful appearance. At Juvea Aesthetics, a qualified practitioner or Doctor will assess your skin type and desired outcome, choosing the right treatment for you from a selection including glycolic acid peels, the Obagi Blue Peel Radiance (20% salycilic acid) or an Easy TCA (tricholoroacetic acid) peel.