22.06.21
Smile For The Camera! Our Top Five Treatments for a Perfect Zoom Look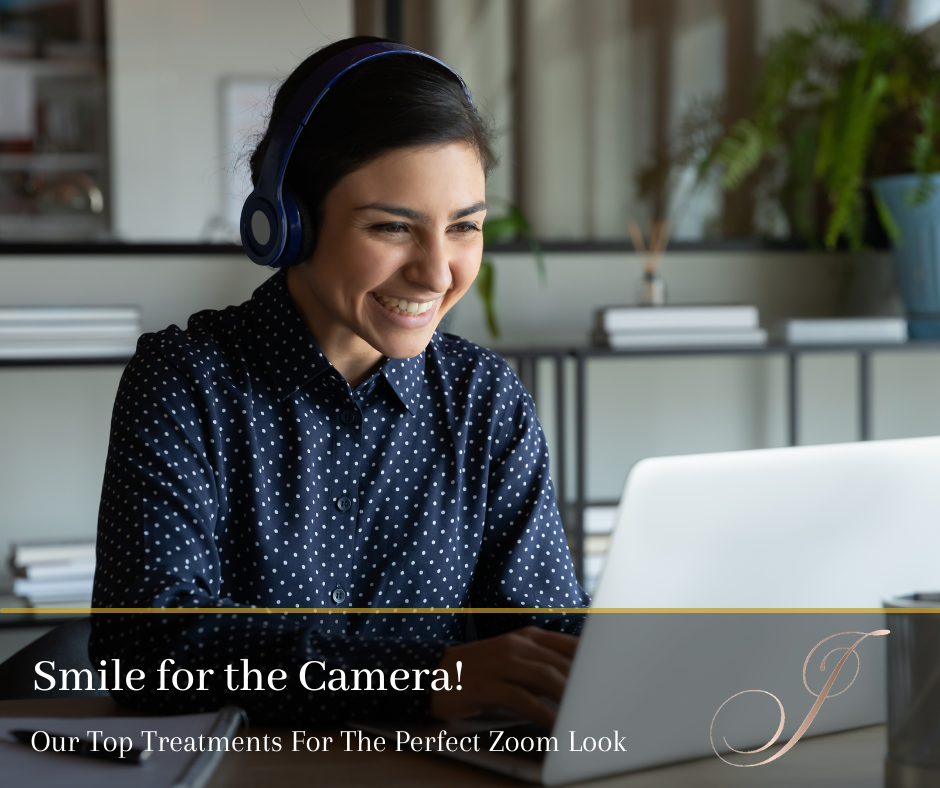 With the end of lockdown delayed for the foreseeable and reports that the UK Government is considering giving us the default right to work from home, it looks like daily Zoom meetings and Team sessions are here to stay. While that comes with a lot of benefits, there's one big downside – staring at our own face for hours at a time.
If you're anything like me, you've perhaps looked at yourself on screen and wondered "where on earth did that wrinkle come from?", or "how can I look so tired when I never leave the house?!". Luckily, Juvea Aesthetics is here to help. We've lined up our top five face and neck treatments to prepare you for a happier summer on Skype.
Botox
If you've not learned to love your wrinkles (especially if they've cropped up during the year from hell that was 2020), then it may be time to embrace the power of Botox to smooth your skin. Erase the lines from your forehead, banish the crows feet from your eyes, lift out those frown lines from between your brows, and enjoy looking refreshed and revitalised on screen. People will be asking your secret in no time, and if you want to tell them it's simply water and yoga, then we solemnly swear not to blow your cover.
Neck SculpSure
If you're a frequent reader, then you'll know how much we love SculpSure for treating stubborn fat patches on the hips, stomach and thighs. What we've neglected to mention before though is that this treatment is also suitable for the neck and jawline. Whether you've got a hint of a double chin, or a touch of turkey neck, then this is the ideal treatment. The sophisticated SculpSure laser targets and breaks down fat cells in the neck and under the chin, reducing fat by up to 24% in one treatment! Check out these before and after images and get in touch to make your booking today.
Laser Hair Removal
There seems to be some embarrassment around admitting it, but women have moustaches. It's real, it happens, and it's nothing to be ashamed of. Still, if a dark shadow on the upper lip or chin has been irritating you and shaving hasn't helped, then the answer is laser hair removal.
This is a super-quick procedure that targets the growing hair in the area, with the laser heating and destroying the hair follicle. It's not exactly pain-free but in this writer's opinion it's a lot less sore than waxing, and as the results are so long-lasting (or even permanent if you're lucky) it's absolutely worth it. You'll need one treatment a month for six to ten months for full effect, but after that it's so long Ladyshave, and hello smooth upper lip and chin without a shadow in sight.
Dermal Filler
Stress does absolutely nothing for our skin, and you may find that the last year has left your face sagging a little. You may have sworn you would never go for fillers, but honestly, there's nothing like them to plump up features that may have got a tad droopy. A light touch will smooth out nasolabial and marionette lines, lift the jawline, and gently volumise thinning lips; all without leaving you looking overdone. Why not discuss your treatment options today?
Lunchtime Facial
Needles and lasers are all fine and well, but after the year we've had, one of Juvea's red-carpet facials may be the perfect treatment to rest, relax, and get some glowing skin. Our Fire and Ice Facial and our Hydrafacial are both loved by A-Listers including Beyonce, Cate Blanchett and Kate Winslett; cleansing, exfoliating, extracting and hydrating to leave you with smooth revitalised skin that doesn't need filters to look good. Give us a call to book in and chill out.