19.05.21
Say Yes to the Dress with Juvea Aesthetics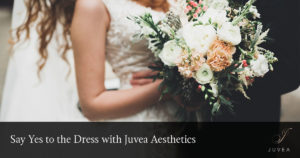 After the excitement of the engagement dies down, it's time to turn to wedding planning. For many brides-to-be; table settings, menu choices, cake tastings, and decorations all take a back seat to one of the most important choices of all – the wedding dress.
On the surface, wedding dress shopping should be a fun experience – who wouldn't want to spend a day (or even days) with your closest friends and family; trying on beautiful dresses in upmarket boutiques whilst sipping on free champagne?
Well, we reached out to our friends and colleagues and it turns out that the experience sometimes isn't all it's cracked up to be, and that finding the perfect wedding dress can raise a number of fears for brides. Still, it's not all doom and gloom – we've come up with some helpful hints and tips to help you handle these fears. Grab a prosecco and see if they can help you say yes to the dress.
"I was worried that I was going to try on a dress, fall in love with it, and then find out it was way out of my budget" – Catherine, 30
Budget is probably the most important thing to figure out before you start wedding dress shopping. Have a top-end figure in mind and stick to it. It can be difficult to gauge prices points for individual boutiques, so if you've any concerns that the dresses they carry may be out of your price-range, then simply give them a call and ask which budgets they can work with. If their prices begin at a price higher than your top end budget, then scratch them off the list. Don't tempt fate by visiting them anyway – you just know that you'll end up finding your dream dress there and you'll be disappointed by every in-budget dress that comes after.
"My wedding has been delayed twice now, and I'm panicking that I'm not going to fit into my dress in a few months" – Sarah, 28
In the COVID-era, this is an issue that a lot of soon-to-be brides are facing. Although doctor-approved diet and exercise are of course going to be the main way of fitting back into your dress, for stubborn patches of fat on the hips, underarms, thighs and stomach; Juvea Aesthetics is here to help.
Our SculpSure treatment uses a laser to target these patches, destroying up to 24% of fat cells in the treatment area and leaving you smoother and sleeker in 12 weeks. Get in touch and see whether this treatment could help you get back to your pre-COVID shape.
"My biggest fear was that I wouldn't find a dress in my size, and that I was going to look and feel fat in the dress – total nightmare" – Kirsty, 33
This fear is familiar to any number of brides-to-be, but it's one you can fight from the off. If you're worried about sizes, then give the bridal boutiques you plan on visiting a quick call and find out what sizes of sample dresses they carry. If they don't have one that'll fit, then scratch them off the list. Also remember that wedding dress sizes run a lot smaller than street sizes, so when you're trying them on, remember that size is just a number.
If you want to lose weight before your wedding, then as long as you're doing it in a healthy manner then go for it! Diet, exercise and even SculpSure can all be tools to feel more comfortable in your gown. But whatever you do, do not buy a smaller dress with the intention of slimming into it. You deserve to have a happy engagement, and spending that time with the fear of not fitting into your dress looming over your head doesn't sound like any sort of fun. Seamstresses and tailors can do incredible things to dresses to make them fit you perfectly; so get a dress that fits the body you have now and when the time comes, have them altered to fit your new physique.
Be Kind To Yourself
Although wedding dress shopping can be a little hair-raising, it can also be a lot of fun. Go in with an open mind on style, focus on what will suit you instead of what's the current wedding dress fashion, don't get self-critical, and if it all gets a bit overwhelming, then take a break and come down and see us for Hydrafacial instead. You'll be ready to get back out there and say yes to the dream dress in no time at all!